Introduction to Le Havre, Normandy
History of Le Havre
Le Havre, with its rich tapestry of history, isn't just any port city. During the turbulent times of World War II, much of its architectural charm was lost to the ravages of conflict. However, like a phoenix, the city rose from its ashes under the guidance of Auguste Perret, a visionary architect. His designs, marrying function with aesthetic appeal, breathed new life into Le Havre. This effort didn't go unnoticed; the city's exceptional post-war architecture was recognized and honored as a UNESCO World Heritage Site, marking its significance on the global stage.
Lights & Clouds in Le Havre
The allure of Le Havre isn't confined to its buildings alone. The skies above the city have been a canvas of nature, displaying a mesmerizing blend of lights and clouds. This ethereal atmosphere hasn't just been a treat for its residents but has also inspired a plethora of artists. Notably, the Impressionist maestros, Claude Monet and Eugene Boudin, found themselves enchanted by the city's skies, capturing its radiant hues and shifting patterns in their legendary paintings.
Normandy Region
While Le Havre itself offers much to behold, it's also the gateway to the broader treasures of Normandy. Those keen on exploring further can embark on shore excursions, journeying into the heart of Normandy. From its rolling countryside, and historic landmarks, to its vibrant culture, the region promises a rich tapestry of experiences waiting to be unwrapped by eager explorers.
Cruises Arriving in Le Havre port
If the seas are calling you, you'll be pleased to know that several renowned cruise lines anchor at Le Havre cruise port. Esteemed names like MSC Cruises, Royal Caribbean, and Aida grace the port, offering travelers a memorable voyage. Upon arrival, passengers are greeted with well-equipped facilities, ensuring a seamless transition from sea to land.
Main Options – Shore Excursions from Le Havre in Normandy
Docking in Le Havre? You're in for a treat! While the hum of the port and the city's unique skyline might beckon, many adventures are waiting just beyond. To make your choices of shore excursion a tad easier, here's a curated list of some top shore excursions from Le Havre. And remember, there's no ranking here – it's all about what stirs your spirit!
Visit Le Havre
Delve into the heart of Le Havre, a city that wears its history and culture like a badge of honor. Wander through the streets, and you'll find remnants of its storied past juxtaposed with modernity.
Auguste Perret's architectural genius echoes in the city's layout, a testament to its rebirth after the war's devastation. And while you're there, don't forget to cast your eyes skyward; those clouds and lights that once inspired artists might stir something within you.
Visit the Normandy Beaches
The sands of Normandy aren't just grains and shores. They're pages from history, whispering tales of valor from D-Day, the fateful turn of World War II. Especially resonant for Americans, beaches like Omaha and Utah stand as silent witnesses to courage, loss, and triumph.
As you tread these sands, take a moment to remember and honor the brave souls who shaped history here. If you'd like to make the most of the Normandy Beaches, we cannot praise enough the Normandy D-Day Landing Beaches Shore Excursion from Le Havre led by our certified guides with over 15 years of experience.
Visit Paris via Shared Tour
Paris isn't merely a city; it's a dream etched in stone, art, and the waters of the Seine. A shared tour from Le Havre Cruise Port whisks you straight from the cruise ship into this dream.
Whether you're gazing up at the towering elegance of the Eiffel Tower, losing yourself in the vastness of the Louvre, or simply enjoying a quiet moment by the Seine, the City of Lights ensures memories that'll last a lifetime. For an ultimate Paris experience, check out our Paris Guided Day Trip Shore Excursion From Le Havre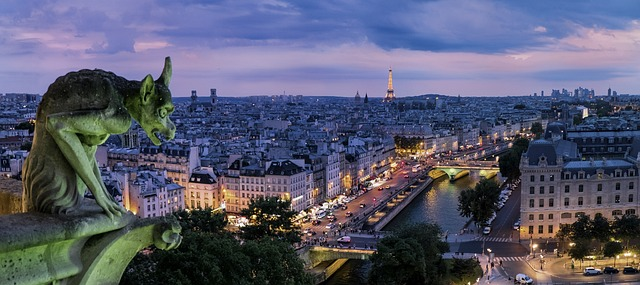 Visit Etretat
Picture this: sheer cliffs of white chalk, arches crafted by nature's hand, and the endless blue of the sea meeting the sky. That's Etretat for you. More than just a coastal town, it's a masterpiece, often immortalized in paint and prose. A short journey from Le Havre, Etretat promises dramatic vistas and moments of reflection. Whether you're capturing photos or just soaking in the view, it's a day trip that'll etch itself in your heart.
This expanded version provides readers with a deeper understanding of each excursion, painting vivid mental pictures while staying informative and accessible.
Stepover at the Port of Le Havre - Suggestions & What to Do?
Arrival at the Le Havre Cruise Terminal
There's something magical about that first step of the cruise ship, isn't there? The aroma of salty sea air mixed with the distant scents of fresh pastries. Le Havre is not just a stop - it's a journey.
Le Havre Cruise Port
Overview: The Le Havre Cruise Port isn't just a docking station for cruise ships; it's a modern architectural marvel that stands ready to usher in the large and illustrious vessels from across the seven seas.
Distance from the City Center: Cruise Terminal is merely 2.2 kilometers from the vibrant pulse of Le Havre. Close enough to taste the excitement!
Travel Time: Depending on your chariot of choice, be it wheels or feet, you're a breezy 12 to 30 minutes away from city splendors.
Taxi: Taxis are available in the ferry terminal and the ride to the city center shouldn't cost you more than 10€ per vehicle one-way.
Shuttle Services: Regular shuttles, as dependable as the tides, shuttle to and fro between the Le Havre and the Le Havre cruise terminal. Remember to glance over the timetable! These shuttles usually drop you off at landmarks like the Le Volcan Arts Theater Complex and the Espace Coty shopping mall.
Railway Connectivity: the Le Havre train station, Gare Le Havre, stands roughly 2.2 km/1.4 miles (or a 30-minute walk) from the cruise terminal. If you start your walk from Le Volcan, you'll reach the train station in about 20 minutes. At this railway hub, you can hop on trains to various destinations like Paris, Rouen, and Honfleur. To plan your journey, refer to the official SNCF website, France's national railway operator.
Getting Around
On Foot: Every street and lane in Le Havre has its own story. With pedestrian-friendly pathways, it's easy to lose oneself in tales told by cobblestones and old lampposts.
By Bike: Feel the city's rhythm with every pedal. Bike rental stations invite you to be part of the city's energetic ballet, and the dedicated lanes ensure your dance is safe.
Tuk Tuk: Change up the tempo! Zip around in a Tuk Tuk—a fun whirlwind tour with drivers who sprinkle their journey with snippets of local lore.
Dining Options Near the Le Havre Cruise Terminal
Before you sail into the heart of the city, anchor your appetite. Right at the port's doorstep, you'll find pockets of culinary wonder, from quick bites that tantalize to full-fledged French feasts.
Local Crafts & Souvenirs
Memories are intangible, but the right souvenir can serve as a perfect vessel. Just a stone's throw from the port, artisans weave magic into crafts, turning ordinary materials into tokens of remembrance.
Essential Tips for Your Le Havre Visit:
Currency: France uses the EURO (€). Both local currency and credit cards are readily accepted.

Tipping: While not obligatory, consider leaving a few euros at a restaurant if the service particularly impresses you.

Emergency Contact: Dial 112 if you find yourself in an emergency.

Sunday Norms: Sundays typically see a quieter France; many shops are closed. However, grocery stores remain open until noon. The MuMa Museum, a notable exception, welcomes visitors on Sundays.

Monday Closures: Mondays might be quieter still, with many stores and museums in Le Havre opting to close. A heads up, the MuMa Museum is one of them.

Shopping on Weekends: If you've got shopping on the mind, particularly for clothes, you'll find some stores open on Sundays and Mondays at the Docks. Note: This isn't in the same direction as the city center.

Language Barrier: As a bustling seaport, you'll find many locals conversant in English. However, in the city center, you might find some who only speak their native French.
What to do in Le Havre from the cruise port
Le Havre, a quaint city on France's northern coast, is an intriguing mix of history, architecture, art, and nature. As your cruise ship docks in the cruise port, prepare to be introduced to the many facets of this UNESCO-listed destination.
A Tale of Two Architectures:
Auguste Perret's Legacy:
Le Havre's resilience shines through its post-WWII reconstruction. After its devastation, the visionary Auguste Perret spearheaded the city's transformation using innovative reinforced concrete techniques. Among the many modern landmarks, the town hall stands tall, complemented by the St. Joseph's Church's unique structure. Do take a moment to step inside the church between 10 am and 6 pm the sunlight filtering through its stained glass is a sight to behold.
Oscar Niemeyer's Modern Marvels:
Adjacent to the Le Havre's shuttle stop stands an architectural marvel that locals affectionately dub "The Volcano" or "The Yogurt Pot." This iconic building, contrasting with Perret's designs, is the brainchild of Oscar Niemeyer, renowned for his groundbreaking work in Brasilia.
Nature & Art Merge:
Le Havre's ethereal light has mesmerized countless artists, especially the impressionists. As you stroll along the ponds and promenade, stop by the displays showcasing iconic paintings, offering glimpses of the very spots they were created. Extend your walk to Sainte Adresse, historically significant during WWI. The beach has its own allureᅳwith pebbles dominating during high tide and soft sand appearing during the low, accentuated in summer by vintage beach bungalows.
MuMa Museum - A Haven for Art Lovers:
Nestled near the harbor watchtower lies Le Havre's art gem: the André Malraux Museum or MuMa. Awash with natural light, its vast collection spans from the 15th to the 20th century, featuring masterpieces from stalwarts like Monet, Renoir, and Degas. Its impressive Impressionist trove is second only to Paris. Note: The museum remains closed on Mondays.
Contemporary Touches in an Ancient City Centre
As Le Havre celebrated its 500th anniversary in 2018, it welcomed modern art pieces that have since become permanent fixtures. Among them are the vibrant arches crafted by Vincent Ganivet, designed using colored containers. This blend of tradition and modernity stands tall at the end of rue de Paris, with the bustling former port of Le Havre as its backdrop.
Le Havre, Echoes of the Past:
While modern architecture dominates, Le Havre's past still whispers through the remnants of the old city. Wander down rue de Paris to find the cathedralᅳa modest structure with a history-rich bell tower dating back to the 16th century and Cardinal de Richelieu's organ gifts from the 17th century.
Panoramic Le Havre:
For a bird's-eye view of Le Havre, head to the cliffs at the end of the main beach walk. The panoramic vantage point unveils the vast expanse of the city, the beach, and the majestic bell tower of St. Joseph's Church. On clear days, the distant towns of Deauville and Trouville emerge from the horizon.
Local Pulse - Culture and Gastronomy:
Dive into Le Havre's heart by wandering its streets. Discover bakeries exuding the aroma of fresh pastries and explore the vibrant Les Halles market hub of activity especially in the mornings. Here, the rhythm of French life unfolds in the most authentic way. Just a tip: Many stores pause between 1 and 3 p.m., embracing the quintessential French mid-day break.